888 finalises sale of entire Bingo business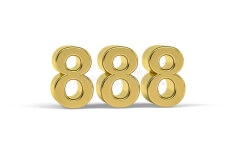 In what is understood to be a strategic manoeuvre, online gambling giant, 888 Holdings has completed to sale of all of its online bingo assets (both B2C and B2B), as it looks to refocus its business.
A $50 million deal was completed, with Broadway Gaming acquiring the assets which will see the company significantly add to its portfolio, which includes the increasingly popular Butler's Bingo.
Arguably the selling point for Broadway Gaming was the fact that the deal included 888's Dragonfish B2B (Business-to-Business) bingo teams and proprietary technology which the company said was crucial to its future growth plans.
888's bingo business which is primarily geared to the UK market, generated revenues of approximately $25 million in the first half of 2022, so it is easy to see why this was such an attractive proposition for Broadway Gaming.
888 to focus on casino and sportsbook
The sale of its bingo assets will now allow the Gibraltar-based group to focus on its online casino and sportsbook businesses. Following its acquisition of William Hill's non-US assets earlier this year, it means that 888 will be able to further integrate the brand into its current business.
It clearly has a vision to make sure that it can become a leading force when it comes to sportsbook and casino and there is a lot of potential there considering its pedigree in the industry.
This injection of cash will mean that 888 will be allocate resources appropriately to make sure that it can fully execute its plans, which have no doubt been in place since the takeover was completed.
Online bingo has served the firm well over the years and it has built up some industry-leading brands that are some of the biggest in the world, such as 888Ladies, Wink Bingo and 12 others, which all appeal to certain segments of the online bingo sector.
Now with a much clearer strategy in place, the firm can use the experience and also its expertise to make sure that it can build up its online casino and sportsbook brands to a point where it can be thought of as a market-leader.
Expansion to follow for 888?
While it is already well thought of in the UK and Europe, 888 has also started to make progress in the ever-increasing US market and has obtained licences in multiple states over the last couple of years.
Already particularly big in the likes of New Jersey for its online casino offering, arguably one of its most exciting projects involves a partnership with flagship US media firm, Sports Illustrated.
The two companies have leveraged this partnership to create and build a sportsbook in the state of Colorado, with aggressive expansion plans to develop this further. Launched in September last year, this has already started to gain traction and has a number of unique assets associated with the brand which can position it to be a standout in what is likely to become one of the world's leading markets.
Written for onlinecasinogamesindia.in by Vihaan Agarwal - 29-07-2022