Minamino key to Monaco's Casino Secret Deal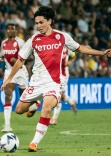 Minamino key to Monaco's Casino Secret Deal
Japanese football player Takumi Minamino has wasted no time in earning his salary since his summer transfer from Liverpool to AS Monaco football club.
His move has helped to pave the way for a deal between the football club and the Japanese casino, Casino Secret, which has become the club's Official Online Gaming Partner for Japan.
Tactical partnership could prove fortuitous
This could well be a masterstroke from AS Monaco who are looking to grow their global brand and with Minamino arguably having a rock star status in the country, this may well prove to be a very astute deal for the club.
Casino Secret is understood to be one of the most popular gambling brands in the Asian country and as a result, it is likely that the affiliation with Monaco will give it much-needed brand awareness internationally.
There are, of course, many different plans in place between the two entities, not least of which are digital content campaigns that will help to increase exposure between the two. Indeed, Monaco recently launched a Japanese Twitter account following the inking of the deal.
The brand growth in Japan for the casino has been exponential since it launched in 2018, and now, with Minamino - somewhat of a poster boy in the country, being connected with Monaco, this could well help to propel it even further.
Expansion into European market?
This latest deal could well help to pave the way for Casino Secret to launch in the European online gambling market, if there appears to be the demand for it. It could be especially appealing for Japanese European residents in European countries.
Obviously, Casino Secret will require licences to operate in Europe, though its partnership with Monaco - which is also a gambling hotspot in its own right, may be highly beneficial in helping to smooth the waters.
It is likely that the football club itself has connections with gambling scene in the principality and this could be key to helping to establish the brand in Europe.
Written for onlinecasinogamesindia.in by Vihaan Agarwal - 05-09-2022