Max Megaways shaking up the Online Slot Scene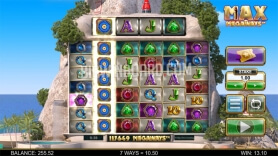 Arguably Big Time Gaming's biggest blockbuster to date, this latest release has all of the ingredients of a classic Bond caper, with thrills and features to whet the appetites of even the most die-hard slot enthusiast.
A six-reel slot that boasts 117,649 ways to win, this is entertainment personified, based on the premise of a secret lair within a volcano so that you can be sure of a fiery experience.
Despite this, your journey with the slot begins outside of the volcano which could not be anymore different to what you would find inside; blue skies, sun and light fluffy clouds dominate the skyline on a tranquil mountainside.
Mechanically the features within the slot all make sense including the triggers and the bonuses, all of which vary, from free spins and scatters to expanding wilds.
What makes this slot appealing?
Perhaps undoubtedly, it has to be the gameplay, which is illustrated by spectacular graphics and bursting with colour. As you might expect from the theme of the slot, it can really trigger the imagination regardless of whether you are new to online casinos or you are a seasoned player.
Furthermore, there is also excellent bonuses on offer and with a modest 96.3 per cent RTP (Return-to-Player) rate, you can expect payouts on a semi-frequent basis. The double multiplier symbols are a very enticing factor, which can significantly increase the amount of your payout.
Both of the scatter retriggers are instrumental in the bonus rounds while the duplicating wilds can also have a considerable impact.
Above all, the slot itself makes sense and has a fascinating user journey that keeps you hooked as you progress through the story of the slot. Fans of the slot will be encouraged by the fact that this is the first in a series of three that Big Time Gaming have planned to release, with work already starting on the next one.
How can you win playing Max Megaways?
There are a number of ways in which you can win while playing this slot, not least of all via the multiple bonus rounds that are included. Before free spins commence, you need to select one of the doors, which then show free spin modifiers. When regular spins are triggered, this equals to two picks of the doors, while the enhanced free spins equate to three picks.
All free spins have a win multiplier that begin at 1x and increase by one following every action. Scatters also only appear on the 'Extra Reel' and if two scatter retriggers yield nothing then getting three out of four of them gives you four extra free spins.
Our Verdict of Max Megaways
Overall Max Megaways is one of the most intriguing slot titles to be released in the last year and the fact that another two are planned, already there is a lot of excitement as to what the next ones will offer.
With a substantial amount of features and bonus rounds on offer, in addition to the interactivity you really feel part of this slot as you progress through the gameplay.
Written for onlinecasinogamesindia.in by Vihaan Agarwal - 13-10-2022