Ontario set to welcome retail sportsbooks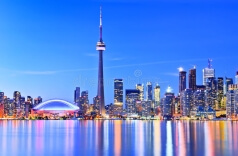 Having only regulated online gambling earlier this year, the province of Ontario has witnessed a surge in its popularity, reflected considerably by the granting of licenses to numerous online casinos and sportsbooks over the last few months.
Since April, when regulated online gambling went live, in excess of 20 operators have had licenses approved in the province, which is fast becoming one of the most active in the global online gambling industry.
The response over the last six months has been considerable, and this provides a vital clue that Ontario could be the most interesting to watch over the next year.
Ontario's online industry providing launchpad for retail
Perhaps somewhat in reverse, the launch of the regulated online gambling industry in Ontario and the subsequent success has led to the proposed plan to launch retail sports betting outlets in the province.
It has seen gambling giants Caesars Entertainment and the native Great Canadian Entertainment preparing to launch physical retail outlets to complement their online services, and this is something that has been backed by the Ontario Lottery and Gaming (OLG) commission, which regulates the market.
This move is seen as the next natural growth phase for Ontario as it looks to further increase its capacity for sports betting, with several benefits tied into this.
As yet, the number of principal locations is undecided, though there is scope for potential partnerships with numerous sports franchises within the province, whereby Caesars could have on-site sports betting facilities and associated branding through sponsorship deals.
Las Vegas-style gambling experience in Ontario?
Following the announcement, there have been whispers that the aim is to turn various parts of Ontario into an entertainment hub not too dissimilar to that of the world-renowned gambling and entertainment resort of Las Vegas in the neighbouring US.
Multiple US firms have effectively led the way in Ontario when it has come to obtaining licenses, and as such, they could have a considerable say in how successful the market is in the future and its standing among the industry's global elite.
The creation of an entertainment hub in the province that has shades of 'Vegas' about it could certainly help in a number of ways. If this can become a tourist attraction, especially governed by location, then it will have major benefits for the economy.
Of course, many gambling enthusiasts will also be on the lookout for a different kind of gambling experience to that of 'Vegas' or even Atlantic City, and Ontario may just become somewhat of a honeypot if this has all of the right components in place.
What is likely to be a selling point for major operators is the cost of land in Ontario, which, although is starting to increase, is less of a premium than certain locations in the US, and this could act as a catalyst in attracting further operators to establish physical venues in what may lead to being a major resort. Especially when considering the potential return on investment.
Written for onlinecasinogamesindia.in by Vihaan Agarwal - 08-11-2022