Michigan achieves online gambling record for February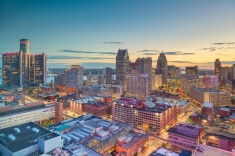 The US state of Michigan has continued to break records after setting a new record for online gambling (casino and sports betting), for February it has been revealed.
Having only launched online gambling in the state in January 2021, Michigan has enjoyed many record-breaking months in this time, both on the online sports betting and online casino front.
However, February 2022, yielded the most productive month yet in terms of gross gaming revenue (GGR), with a sports betting handle of $398.4 million. This has happened for a fifth consecutive month and it certainly appears that the state is going to be one to watch, even during 2022.
How is Michigan going to rank among other US states?
It will certainly be an interesting 12 months in the industry in terms of what will happen on a monthly and even quarterly basis. This is especially going to be the case after more states were regulated, including what is being predicted to be the most lucrative state in the union for online sports betting especially; New York.
In its first month (February), the Big Apple exceeded all expectations, becoming the first state to surpass the $1 billion mark in its debut month, while also breaking the record for revenue, with figures in excess of $1.4 billion.
However, compared to other states, Michigan certainly has the potential to be a close second, in terms of revenue over the next 12 months, though Illinois could challenge it, after becoming regulated towards the end of last year and Chicago having such a strong interest in online gambling as a city.
What may be an eventual threat even to the rest of the US market, is California - the most populous US state, with an online gambling bill set to be voted on in November. Indeed many people in the state regularly head across the border to Nevada to gamble in Las Vegas.
What are the major verticals in Michigan?
From an online casino perspective, poker has proven to be a mature market in Michigan, with the state showing considerable revenues from online poker at many of the different online casinos.
While sports betting is generally seasonal, especially for US sports, during each season (there are, of course, overlaps), sports betting is a major revenue generator, which is a huge achievement considering that the state plays home to only some minor US sports franchises.
Some of the best performing online casinos and sportsbooks in Michigan are mainly native to the US, which includes FanDuel and DraftKings, in addition to BetMGM and Caesars Entertainment.
Over the course of the next 12 months, what we could see is more and more foreign operators applying for licenses, in addition to Michigan potentially becoming a magnet for software providers and specialist game development studios.
Written for onlinecasinogamesindia.in by Vihaan Agarwal - 18-04-2022