Reach for the Stars with Moon Of Fortune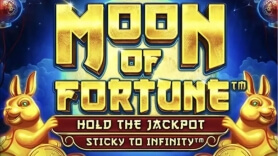 Fresh off the ever-expanding conveyor belt of software provider Wazdan, is the highly immersive Moon of Fortune online slot game and, kudos to the guys over there who have managed to give it an innovative edge.
Boasting a 4x4 grid, this has an RTP (Return-to-Player) rate of 96.12 per cent and an adjusted volatility level, meaning that there is a decent amount of flexibility about this slot game. Certainly, this is a good advantage if you are new to playing online slots.
Should this be the case, then it is always advisable to select the lower volatility level, which increases your chance of payouts, albeit smaller, while you won't need as big a cash flow.
Getting to know Moon of Fortune
You will find that this slot has a multitude of a lot of the usual features that are common with online slots, including wilds and bonus rounds, plus a variety of interesting symbols.
In order to register a win, you are required to line up 10 to 16 matching symbols and, as such, hitting 16 matching symbols can generate a return ranging from 10 to 200 times your principal stake.
Meanwhile, in order to assist in completing or improving the chances of wins, the wild symbol acts as a substitute for pay symbols and, because of this, there is no value that is actually attained to it.
The Chance Level Ante, means that you can play with 2x, 4x or 6x your bet, which can increase your win levels, in addition to augmenting your Hold the Jackpot Bonus by those respective rates.
There are 16 ways in terms of how the Hold the Jackpot Bonus can play out, with the trigger symbols being sticky from the beginning. Starting with three respins, this tally will then reset based on you landing one bonus symbol of any kind, at least. As a result, any bonus symbol that lands, also then becomes sticky and any cash symbols will then generate a prize with values between one and 15 times your original stake. Upon landing either the mini, minor or major jackpot symbols, you will get a return of 20, 50 and 150 times your stake respectively.
Landing collector symbols collect the value from cash symbols and it increases the value of the total with a random multiplier of between one and 10 times. In addition, Mystery Symbols invariably turn into a wide range of bonus symbols and the Rabbit Mystery symbols will transform into an aforementioned bonus symbol. As the bonus round ends, these two symbols are then revealed. Upon filling all of the 16 slots with bonus symbols, regardless of what they are, you will then land the Grand Jackpot, which is 1,500 times your original stake.
What is our Verdict of Moon of Fortune?
While there isn't anything new about this slot in terms of what you haven't seen before, it still boasts enjoyable gameplay, with good graphics and a nice colour scheme.
The adjusted volatility feature is a great bonus for those who are new to playing online slots and the grand jackpot prize does offer a healthy potential return. All in all, a good job from Wazdan.
Written for onlinecasinogamesindia.in by Vihaan Agarwal - 03-08-2023